I-140 is an immigrant petition to allow foreign workers to work in the United States on a permanent basis.
H1B visa is dual intent non-immigrant visa. I-140 allows the petitioner to convert their non-immigrant status to immigrant status by applying for a green card through an employer.
I-140 has many steps and each step goes requires meticulous documentation and goes through the approval process.
If you keep the required documents and information ready from your end, it may end up reducing the overall H1B application processing time by 20%.
Documents required from your side:
You should keep these documents ready to reduce the delay on your part.
Work experience letters: The letter must be on the company letterhead. The letter must describe the job position, start date, end date, hours worked per week, and job duties. It's better to have job duties similar to the job description used for the I-140 process.
W2 wage and tax statement: This helps to determine your current employment and wages.
Scanned copies of diploma and degree
Transcript and Marksheets: Marksheets are not required but good to have.
Resume (US format)
Passport: Biometric page, visa page, and address page. It's better to include all the arrival department scan pages.
Visa Stamp page of passport
Payroll paycheck for the last two pay periods
Education evaluation for non-US degree: Immigration attorney may request education evaluation. It's good to submit proper education evaluations for foreign degrees to avoid any related RFE.
I-94: If you have traveled to the US before
All previous I-797 approval notices
I-94 arrival-departure record
SSN document
Income tax returns
All previous EAD approvals:  This may include OPT EAD, L2 EAD, and H4 EAD.
All previous I-20 documents if you have studied in the US before
Document from your employer and attorney:
Ideally, your immigration attorney will communicate directly with the employer to get the following documents and review the required information.
There may be delays on their part depending on the volume of H1B petitions they are working it. It's good to know what goes on behind the scenes, so you may follow up if required.
G-28: Notice of Entry of Appearance as Attorney or Accredited Representative
I-907: Employers may use this form to request faster processing of the H1B application. Not all employers choose to file the I-140 application in premium processing. You should try to convince your employer to use premium processing to reduce the overall time of the I-140 process.
I 140: Immigrant Petition for Alien Worker
ETA-9098: PERM application
Letter of support from the employer
Large corporations and immigration attorneys simultaneously work for many I-140 applications. It's better to follow up regularly to speed up your case further.
I-140 Stages
I-140 process has the following stages
PERM process
Before applying for I-140, your employer has to obtain proof that you are not replacing any resident worker and you are paid appropriate wages. DOL uses the PERM process to determine this eligibility. PERM process takes a significant amount of time in the entire I-140 application process. Primarily, it has the following steps.
PWD Request: Prevailing Wage Determination request is used to provide DOL information such as job duties, position requirement, work location, wages. This step is important to make sure that the foreign workers are paid appropriate wages and they not replacing any resident worker.
Recruitment: In this phase, your employer conducts a "good faith" recruitment process to prove your eligibility for the job at a given location. Your employer must place job advertisements in major newspapers, job boards, and state-level job agencies. This phase generally lasts for up to 2 to 3 months. It's important to do this step appropriately to avoid any audits or RFE in the next steps.
ETA Form 9089: There is a mandatory 30 day waiting period after the recruitment phase and before applying for ETA-8089. This form provides DOL similar information as PWD request along with documents related to the recruitment process. DOL takes around 4 to 6 months to process your application. PERM can be denied or RFE can be issued at this stage. It's mandatory to get approved PERM to apply for I-140.
I-140 Application:
After PERM approval from DOL, the Immigration attorney will send the I-140 application to USCIS.
USCIS will provide one of the following decisions
Approval: Best case scenario. You are allowed to work in the USA.
RFE: USCIS is not satisfied with the documents or information provided by you. They may ask for more information from your employer or you. RFE document contains all the details and maximum time allowed to respond to RFE. If RFE is not responded to by the mentioned time, I-140 will be rejected.
Denial: I-140 is denied. You may try again or appeal the decision through Immigration Attorney.
This is a rough flow of the I-140 application from start to end.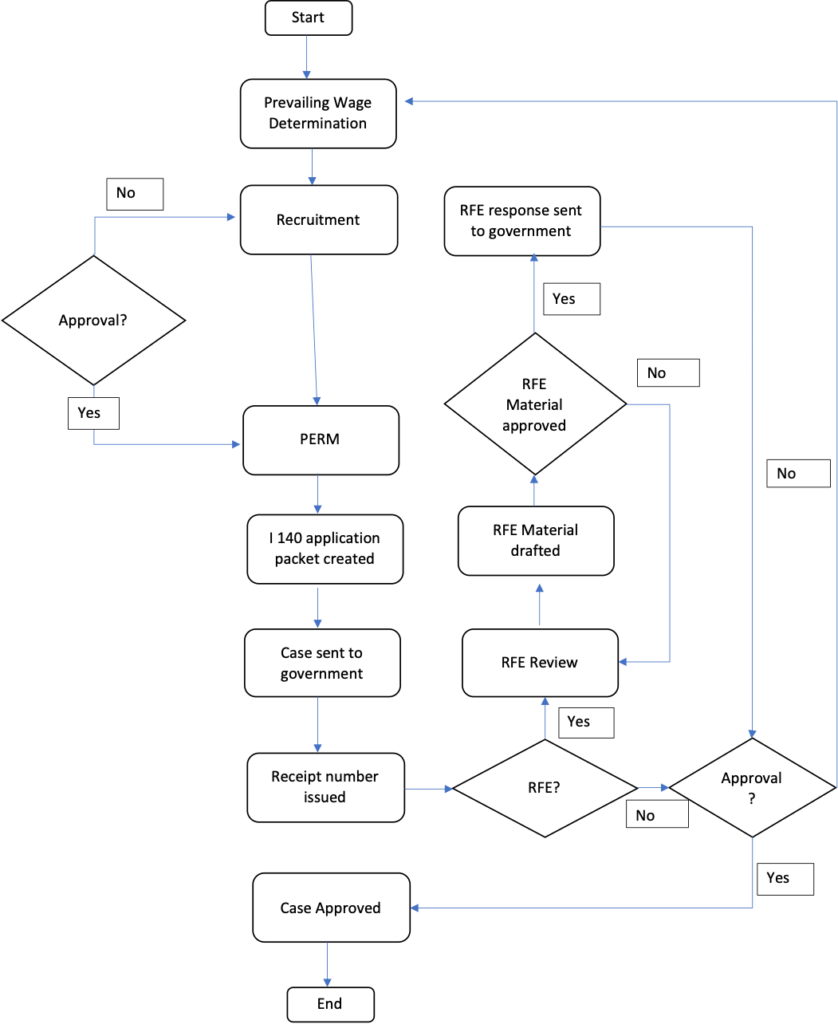 Conclusion:
It's not possible to control the overall time taken to process the I-140 application. The Visa officer may ask for additional documents. It's better to keep the required documents ready to reduce the overall time of the I-140 application.