H1B process is a very thorough and document-intensive process involving your employer, immigration attorney, and you. You play a key role in this entire process.
If you keep the required documents and information ready from your end, it may end up reducing the overall H1B application processing time by 20%. 
Documents required from your side:
This is not an exhaustive list, but you should keep these documents ready to reduce the delay on your part.
 For everyone
Scanned copies of diploma and degree
Scanned copies of Transcript and Marksheets
Resume (US format)
Scanned copy of Passport (Photo page, address page, all stamped pages)
Visa Stamp (Included in your passport)
Payroll paycheck stubs for the last two pay periods
Education evaluation for a non-US degree (Good to have this ready)
For F1 students applying for H1B
In addition to the above documents
All I-20 documents
SEVIS record
For a change of status, H1B transfer, and renewal
Form I-94, if you have traveled to the US before
All previous I-797 approval notices
I-94 arrival-departure record
SSN card
Income tax returns
All previous EAD approval documents
Income tax returns (Good to have)
Document from your employer and attorney:
Ideally, your immigration attorney will communicate directly with the employer to get the following documents completed and approved. You should keep following up to process your case faster.
Big organizations and immigration attorneys simultaneously work for many H1B petitions. There may be delays on their part depending on the volume of H1B petitions they are working on. It's good to know what goes on behind the scenes, so you may follow up if required.
Immigration attorney and employer will submit the following documents in addition to documents collected from you.
G-28: Notice of Entry of Appearance as Attorney or Accredited Representative
I-907: Employers may use this form to request faster processing of the H1B application.
I-129: Petition for a Nonimmigrant Worke
I-129 H supplement: Additional document for your petition
ETA 9035: Labor condition application
H1B letter support from the employer
Employer tax returns
E-Verify status document
H1B application process:
H1B application process involves the following stages:
Document and Information collection stage:
Your employer will assign your case to an immigration attorney. The immigration attorney will reach out to you either via e-mail or an online portal to collect your information and required documents. The immigration attorney will review the documents and information provided by you. Mostly they will conduct a high-level review and approve the documents.
It's your responsibility to provide accurate information and documents. It's always good to double-check everything to avoid any RFE or denials. 
The immigration attorney will also collect documents from your employer. Keep checking with your employer to make sure that all documents are submitted on time.
Applying for LCA:
This is the most important stage of the application process.
H1B application can not be submitted without an approved LCA (Labor Condition Application) document from DOL(Department of Labor).
Sending application to USCIS:
A completed H1B application packet containing all the documents and information is sent to USCIS for processing. USCIS will provide one of the following decisions
Approval: Best case scenario. You are allowed to work in the USA.
RFE: USCIS is not satisfied with the documents or information submitted with the application. They may ask for more information from your employer or you. RFE document contains all the details and maximum time allowed to respond to RFE. If RFE is not responded to by the mentioned time, H1B is rejected.
Denial: H1B is denied. You may try again or appeal the decision through Immigration Attorney.
Stamping
There are following scenarios for visa stamping if you are
In the United States already: You can continue to work until your current I-94 expires. You won't be allowed to travel outside the US if your visa stamp has expired.
Outside of United States: You must book a visa appointment at a regional US consulate to apply and get the visa.
Planning to travel after approval: If your current visa has expired and you are planning to travel outside the US, you must plan for visa stamping before re-entering the United States.
The following diagram describes the high-level flow of the entire H1B visa application process.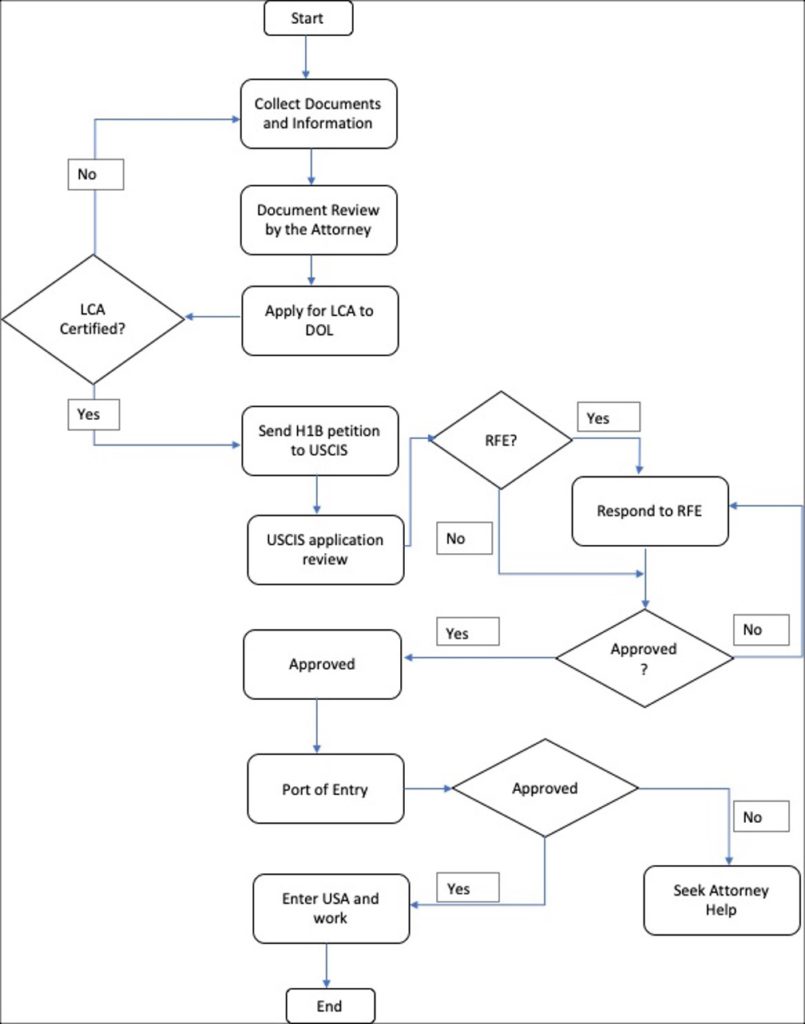 Conclusion:
It's not possible to control the overall time taken to process the H1B application. The Visa officer may ask for additional documents. It's better to keep the required documents ready to reduce the overall time of the H1B visa application.